Gracias a 2 inventores que querían que todos tuvieran la oportunidad de disfrutar de la hermosa maravilla del mundo, ahora es posible.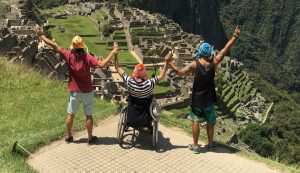 Millones de personas acuden a Machu Picchu cada año, pero la primera persona en silla de ruedas solo visitó el antiguo sitio de los incas el mes pasado.
Ahora, docenas más seguirán gracias a la compañía de viajes Wheel the World, que pronto comenzará a ofrecer los primeros recorridos en silla de ruedas del Patrimonio de la Humanidad de la UNESCO. La compañía, fundada por un par de amigos de toda la vida, Álvaro Silberstein y Camilo Navarro, ofrece recorridos a destinos lejanos con la ayuda de sillas de ruedas plegables especialmente diseñadas.
La compañía nació cuando los dos amigos, uno de los cuales usa una silla de ruedas, mientras que el otro no, se dispuso a caminar por el Parque Nacional Torres del Paine en Patagonia en 2016. Silberstein, quien ha usado una silla de ruedas desde que tuvo un accidente de automóvil a la edad de 18 años, recaudó $ 8,000 dólares a través de una campaña de crowdfunding para comprar una silla de ruedas plegable y liviana.
"Hay mil millones de personas [en el mundo] con discapacidades", dijo Navarro a CNN . "Pero no hay una empresa de viajes dedicada a estos usuarios".
Ambos hombres, que nacieron en Chile, se mudaron a los Estados Unidos para estudiar en una escuela de negocios, donde comenzaron a desarrollar Wheel the World en un negocio. Desde entonces, su compañía de viajes se ha expandido en América Latina, ofreciendo tours a otros sitios notables como la Isla de Pascua en Chile y lugares escénicos en México y Perú.
Machu Picchu, el corazón del imperio inca ubicado en los Andes, fue llevado a la atención internacional por el historiador estadounidense Hiram Bingham en 1911, momento en el cual los turistas comenzaron a acudir a las antiguas ruinas. Pero fue solo en diciembre de 2018 que los primeros visitantes tetrapléjicos y parapléjicos pudieron acceder a él.
La logística de recorrer el terreno accidentado (una parte del sitio cuenta con 320 escalones casi verticales) requirió que la empresa recurriera nuevamente a la financiación colectiva.
Algunos viajeros con discapacidades han evitado los viajes remotos debido al costo y la molestia de comprar y enviar una silla de ruedas adecuada. Es por eso que Wheel the World adquirió sillas de acero y aluminio especialmente diseñadas y las almacena en el sitio en Perú para facilitar su uso. (Las sillas operan algo como una carretilla liviana, con una sola rueda y dos palos largos).
#StaffX